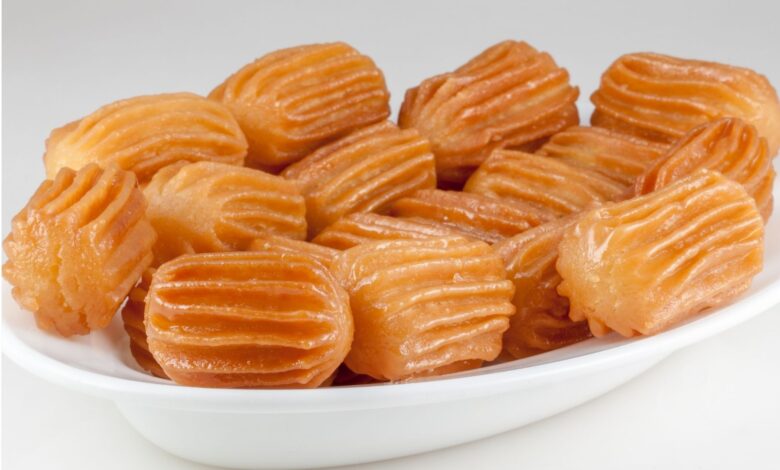 Syrian Recipe For Balah el-Sham
Balah el-Sham sweets (mini chorrus) are considered one of the most famous middle eastern sweets. This is because it contains a high percentage of calories and important nutrients, and it is worth noting that the way to prepare it is easy and enjoyable, and in this article we will learn how to make the delicious Syrian dates (Balah el-Sham).
Balah el-Sham Recipe
Ingredients
250g of flour.
Three eggs.
Half a cup of vegetable oil.
Pinch of salt.
A quarter of a teaspoon of sugar.
Sixty milliliters of water.
1 teaspoon of vanilla.
Amount of oil for frying as needed.
Syrup
Balah el-Sham (Mini churros) Preparation Method
Heat the water in a pot on the stove, then add the sugar, oil, and salt.
Stir the ingredients constantly until it boils.
Add the flour, stirring quickly, until we get a well combined mixture.
Remove the pot from the heat, then put the mixture in a large bowl.
Mix the ingredients again using the electric mixer, then add the eggs one by one, mixing after each addition.
Add the vanilla, and mix again to get a soft dough.
Put the mixture in a piping bag, then shape it as you like.
Fry Balah Al Sham in the oil heated on the fire.
Remove them from the oil and place them on paper towels to get rid of the excess oil, then dip them in cold syrup.
Stuffed Balah el Sham Recipe
Ingredients
Four cups of flour.
Six eggs.
Two teaspoons of vanilla.
Two cups of water.
Half a cup of vegetable oil.
Half a teaspoon of salt.
A tablespoon and a half of vinegar.
Filling:
A cup and a half of cream.
Half a cup of milk.
Three tablespoons of fine sugar.
Half a teaspoon of vanilla.
Sugar Syrup:
Two cups of water.
Four cups of sugar.
One and a half tablespoon of lemon juice.
Stuffed Balah el Sham Preparation Method
Put the oil and water in a saucepan on the stove.
Add the flour after the mixture boils, then stir the ingredients well.
Add the eggs one at a time while whisking with an electric mixer.
Add salt, vinegar, and vanilla, and continue to beat to get a well combined dough.
Put the dough in a piping bag, and shape balah el sham as desired.
Heat a large amount of oil, and fry the pieces until golden.
Filling Preparation Method
Whisk the milk, cream, caster sugar, and vanilla.
Put the filling in the fridge for half an hour.
Syrup Preparation Method
Put in a saucepan on the fire sugar, water, and lemon juice.
Stir the ingredients on the fire and leave it until it boils and becomes thick.
Final Steps (Filling and Serving)
Make an incision in Balah al-Sham using a sharp knife.
Stuff the sham with the filling, then dip it in the syrup, and serve immediately.
How to prepper Turkish Tulumba Recipe. Watch the following video!