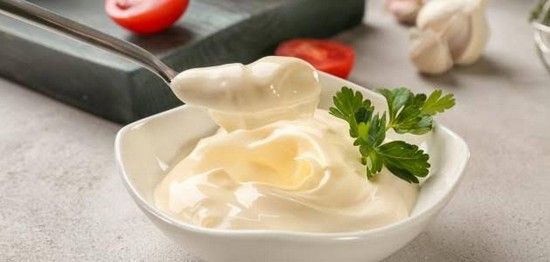 Mayonnaise Without Egg Recipes
The Nutritional Value Of Mayonnaise
Each tablespoon of mayonnaise without eggs contains:
Calories 35.0
kcal Fat 3.5 g
Saturated Fat 0 g
Cholesterol 0 mg
Sodium 0 mg
Carbohydrate 0 g
Fiber 0 g
Sugars 0 g
Protein 0 g
Mayonnaise With Fresh Cream
Prep: 10 minutes
serves: 4-6 people
The Ingriedents:
A quarter cup of fresh and cold cream.
Three quarters of a cup of pure olive oil.
A quarter of a teaspoon of Dijon mustard paste.
Half a teaspoon of lemon juice.
¼ teaspoon finely ground black pepper.
Salt, to taste.
How to prepare:
Mix together: cream, mustard, lemon juice, black pepper and salt in a dry bowl well.
Slowly add the olive oil in dots to make sure it mixes well with the cream, and mix well.
Mayonnaise can be used as a dip, as a dressing for salads, or as a spread on sandwiches.
Mayonnaise Without Egg With Milk Recipe
Prep: 5 minutes
serves: 16 people
Nutritional Information:
Calories 169
kcal Fat 16.2 g
Carbs 4.4 g
Protein 2.1 g
Cholesterol 8 mg
Sodium 248 mg
The Ingriedents:
Three quarters of a cup of water.
One and a half tablespoons of white sugar.
One and a half teaspoons of salt.
A quarter of a teaspoon of mustard powder.
The price of a teaspoon of paprika.
Two tablespoons of concentrated white vinegar.
Two tablespoons of fresh lemon juice.
A cup of milk powder.
A cup of canola oil.
How To Prepare:
Mix: water, sugar, salt, mustard, paprika, vinegar, lemon juice and milk in an electric mixer until you have a smooth mixture.
Slowly add the oil.
Add or reduce the amount of oil until it reaches the desired density.
Keep mayonnaise in the fridge.
Tips For Preparation Mayonnaise Without Egg
Lemon juice can be replaced with white vinegar.
Make sure the bowl in which you mix the mayonnaise ingredients is dry, because the moisture will not allow the ingredients to mix properly.
Organic honey can be added in place of sugar to give a distinct sweet flavour.
Add a pinch of cayenne pepper for extra flavour.
Video For Eggles Mayonnaise Recipe
To learn more about how to make mayonnaise at home, watch the video!