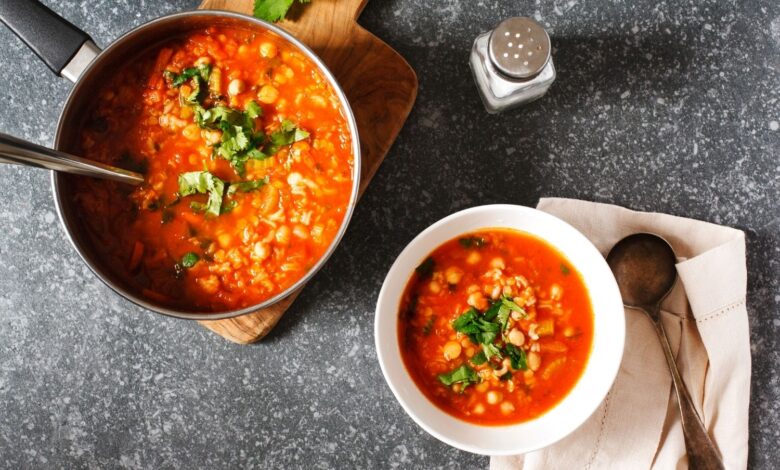 How to Make Moroccan Chickpea Soup
From the Moroccan cuisine, we bring you this warming soup suitable for winter days. Mixing the tender chickpeas with the aromatic Moroccan spices makes this soup irresistible. This soup is full of nutrients and is suitable for vegetarian diet. Chickpeas work as protein source in this recipe. To make this chickpea soup quick and suitable recipe for busy days dinner, we added canned chickpea and canned tomato, but there is no doubt, you can substitute them with fresh ones.
Moroccan Chickpea Soup Recipe
Ingredients:
2 (15-ounce) cans chickpeas, rinsed
3 tablespoons extra-virgin olive oil
1 onion, chopped fine
1 teaspoon sugar
Salt and pepper
4 garlic cloves, minced
½ teaspoon hot paprika (or mild Paprika)
¼ teaspoon saffron threads, crumbled
¼ teaspoon ground ginger
¼ teaspoon ground cumin
1 pound red potatoes, unpeeled, cut into ½-inch pieces
1 (14.5-ounce) can diced tomatoes
1 zucchini, cut into ½-inch pieces
3½ cups chicken or vegetable broth
¼ cup minced fresh parsley or mint
Lemon
Preparation Method
 Heat the oil over medium-high heat.
Add the onion, sugar, and half tsp salt and cook for 5 minutes, or until the onion has softened.
Add the garlic, paprika, saffron, ginger, and cumin and cook for 30 seconds .
Add chickpeas, potatoes, tomatoes with its juice, zucchini. Mix with spices and onion for few seconds.
Add broth and bring to a low simmer and cook, stirring periodically, for 20 to 30 minutes, or until potatoes are cooked.
To thicken the soup, mash some of the potatoes against the pot's side using a wooden spoon.
Remove from fire and season with salt and pepper to taste.
Serve with lemon slices on the side.
Another variation of the Moroccan chickpea soup: