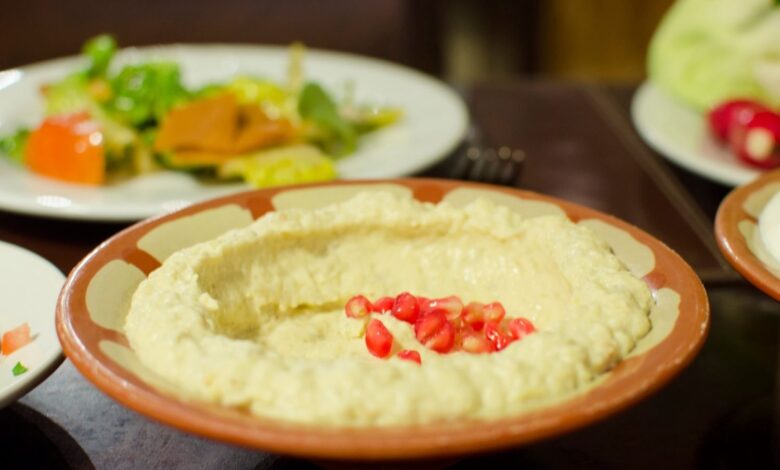 How to Make Baba Ghanoush Recipe
Baba ghanoush (eggplant dip) is one of the very famous appetizers and dips across Syria, Lebanon, Palestine, Jordan and beyond. It is typically made with roasted eggplant (either in the oven or on open flame). Here is a detailed way of preparing baba ghanoush.
Ingredients:
2 eggplants (1 pound each), pricked all over with fork
2 tablespoons tahini
2 tablespoons extra-virgin olive oil, plus extra for serving
4 teaspoons lemon juice
1 small garlic clove, minced
Salt and pepper
2 teaspoons chopped fresh parsley
Preparation Method
Preheat the oven to 500 degrees Fahrenheit with the oven rack in the middle position.
Place eggplants on a rimmed baking sheet coated with aluminum foil and roast for 40 to 60 minutes, flipping eggplants every 15 minutes until evenly tender when touched with tongs. Allow 5 minutes for the eggplants to cool on the baking pan.
Place the colander over the dish.
Remove the top and bottom of each eggplant, then slit them lengthwise.
Scoop the pulp into a strainer with a spoon (you should have approximately 2 cups pulp); discard the skins.
Allow few minutes for the pulp to drain.
Place the eggplant in a food processor once it has been drained.
Add the tahini, oil, lemon juice, garlic, salt, and pepper over the eggplant pulps and blend the mixture until it becomes a coarse purée, roughly 8 times pulsing.
Transfer to a serving bowl, cover securely with plastic wrap, and put in fridge for few hours or until cooled.
(bring to room temperature before serving.)
Before serving, season with salt and pepper to taste, drizzle with additional oil to taste, and top with parsley and Pomegranate (optional).
Serve with Pita Chips or Lebanese bread or raw veggies.