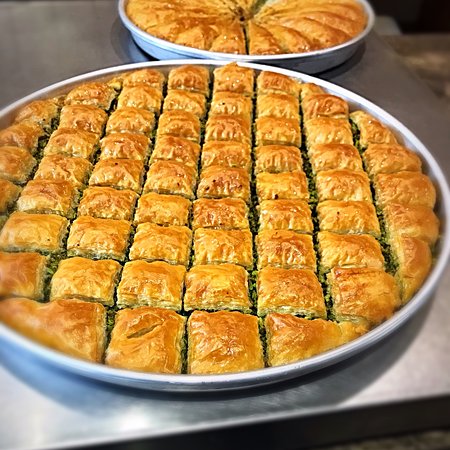 How to Make Baklava with Filo Pastry Recipe
Baklava
Baklava is considered one of the most famous and widespread types of sweets, especially in the Arab countries, and is characterized by its delicious taste that makes it desirable by everyone, as people prefer to eat it especially in the blessed month of Ramadan, in addition to serving it widely on special occasions and parties, and preparing baklava in more than one way. , according to the nuts that they are stuffed with, and according to the shape in which they are formed, so in this article we will present one of the ways to prepare baklava with Filo Pastry.
How to Make Baklava with Filo Pastry
Prep: 20
Cook: 20
Serve: 8
Ingredients
For The dough:
Four cups of flour.
Two cups of warm water.
Two teaspoons of salt.
Cornflower.
To  Prepare The Baklava:
A cup of melted ghee.
Two cups of pistachio.
Half a cup of caster sugar.
A liter of vegetable oil.
How To Prepare
To Prepare The Dough:
Put the flour and salt in a deep bowl, then stir them well, and start pouring water gradually, stirring and kneading, until the dough becomes soft and well combined.
Cut the dough into twenty-four pieces, then put them in a tray, cover and leave for an hour to rest.
Take a piece, and then roll it and dip it in the starch, and spread it on a large soft plate, then roll it in a circular shape.
Repeat the process with all the chips, then stack them on top of each other, sprinkling starch between each layer and the other so that they do not stick together.
Roll the chips with butter paper, then put them in the refrigerator.
To Prepare The Baklava:
We take out the baklava dough from the refrigerator and set it aside until its temperature becomes the same as room temperature, then put it in a wide tray, and cover the chips with a clean cotton towel so that they do not dry out during the preparation process.
Put a spoonful of flour in a small bowl, then pour a little water on it and stir it with a spoon, until we have a soft, liquid dough, to be used as a paste mixture.
Put the ghee in a deep dish, then bring a special grease brush next to it.
We bring another plate, then put both the pistachios and sugar in it, and mix them well.
We take two or three sheets of baklava dough, then place them on a large wooden board, then grease the chips with ghee, and distribute a tablespoon of pistachios on all the chips, then roll them until we reach the end of the chip, then wipe their edge with the adhesive mixture that we prepared earlier.
We press the chip lightly, as it sticks together, and then cut it into finger-shaped pieces with the help of the knife.
We put the oil in a deep saucepan, then raise it over a medium heat, and when it is completely heated, we put the baklava fingers in it, with constant stirring and observation, we wait until it turns golden, then we take it out of the oil and put it on absorbent paper, then dip it in the syrup, until you absorb it completely.
Put the baklava in a serving dish, along with a cup of coffee.