How to Make Garlic Sauce Recipe
Garlic sauce/ garlic dip is one of the famous sauces served with roasted chicken in the Middle East. Alongside with the yummy flavour it adds to any dish it is served with, garlic sauce is full of nutrients.
Garlic Nutritional Value
Garlic Is high In nutrients but low in calories. 100 grams of garlic contains the following nutritional value:
Water 58.58 grams
Energy 149 calories
Protein 6.36 grams
Carbohydrates 33.06 grams
Fiber 2.1 grams
sugar 1 gram
Calcium 181 milligrams
Iron 1.7 milligrams
Magnesium 25 milligrams
Phosphorous 153 milligrams
Potassium 401 milligrams
Sodium 17 milligrams
Zinc 1.16 milligrams
Garlic Sauce Recipe 1
Ingredients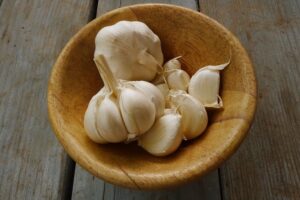 3 big garlic cloves.
Half a cup of oil.
Salt.
White pepper
3 tablespoons of corn starch.
2 tablespoons of Greek yoghurt.
1 Cup of water.
2 tablespoons of lemon.
1 tablespoon of vinegar.
Preparation Method:
Put corn starch with water in a pot, stir until it dissolves.
Put the pot on stove and keep stirring until the mixture thickens.
Put the mixture in the fridge for half an hour.
when the mixture has cooled down, remove it from fridge and put it in a blender or food processor.
 Add garlic cloves, yogurt, lemon, vinegar, salt and paper.
Blend the mixture until it becomes creamy.
Gradually add oil until you get the consistency of garlic dip.
Garlic Sauce Recipe 2
Ingredients
Two tablespoons of each:

olive oil.
Lemon juice.
mayonnaise.

Half a cup of yogurt.
A large potato, boiled and cut into small pieces.
salt.
3-4 cloves of garlic.
Preparation Method:
Prepare garlic sauce by blending all ingredients in an electric mixer until smooth like whipped cream.
Put the garlic sauce in the refrigerator to cool.
Roasted Garlic Sauce Recipe
Ingredients
A head of roasted garlic.
Two tablespoons of each:

vinegar;
mustard or mustard.

Half a teaspoon of salt.
black pepper.
half cup of olive oil.
Three tablespoons of Parmesan cheese.
Preparation Method:
Place the garlic cloves in the oven, then sprinkle with a little oil.
Leave the garlic cloves in the oven until soft.
Peel the garlic cloves and put them in a blender.
Add vinegar, mustard, salt, pepper and cheese.
Mix the ingredients well until it becomes a creamy and has thick consistency.
Put the sauce in an airtight jar.