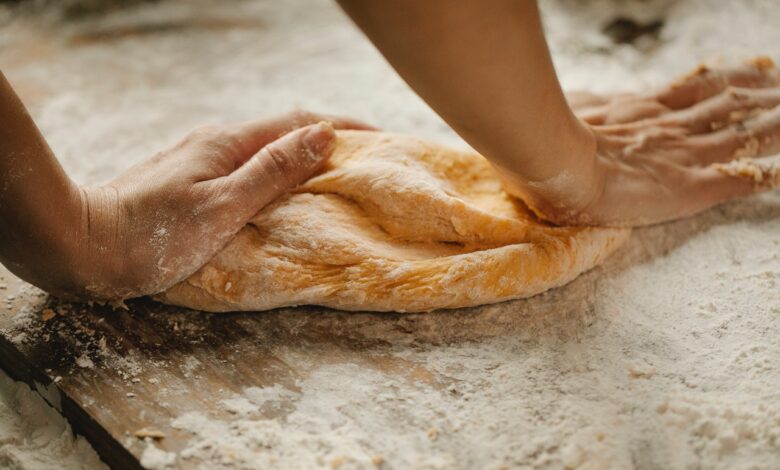 How To Prepare Bread Recipe?
Bread
Bread is considered one of the basic foods for most peoples, as it is the main ingredient accompanying the meal. Bread varies in different shapes and flavors, as each country has a special type of bread that distinguishes it from other countries. White flour is the main ingredient for bread, and there are certain types that are prepared with wheat flour, bran, barley and corn. Today, bakeries have many forms and many types of bread, some of
 which have added herbs, some sweetened with sugar and some are salty, and despite that, they are not like the ones prepared by you. Here is how to prepare bread recipe.
Bread Dough Preparation Method
Ingredients Of Bread Dough
Two kilos of flour, equivalent to eight and a half cups, you can increase the quantity as you like.
11/2 tablespoon of yeast added to two tablespoons of sugar with half a cup of warm water, stirred and left to ferment and rise to the top.
Small spoon of salt.
A quarter cup of powdered milk.
A quarter cup of olive oil.
Warm water sufficient for the dough, add gradually.
A teaspoon of sugar.
How To Prepare Bread Dough
Step1: Sift the flour into a large hollow bowl, then add the salt and powdered milk, and stir the dry ingredients together.
Step2: Add yeast, and add warm water to complete the kneading process. You can knead with your hands or using an electric mixer.
Step3: Continue kneading process until you get a cohesive, soft and smooth dough.
Step 4: Add a quarter cup of olive oil and form the dough into a large ball, cover it with wrapping paper and leave it to rest and ferment for an hour.
Step 5: After the time has passed, cut the dough into equal loaves the size of medium-sized balls.
Step 6: On a flat surface, put a clean cotton towel and start laying the loaves on it and leave it to rest again for an additional half an hour to make it easier to spread and paper.
Step 7: Start rolling out the loaves with a rolling pin to the thickness you want, and put them aside on another cotton towel, especially for rolling out the pastry dough.
Step 8: After you have finished rolling out the loaves of bread, let them rest for ten minutes, then start the baking process.
Step 9: Bread needs a high temperature, provided that the oven is preheated, it needs a quarter of an hour or less.

You can cover the bread with a cotton towel until the whole quantity is baked.
You can save the rest of the of bread in zip lock bags and put it in the freezer or on the top shelf of the fridge, and take the required amount and take it out before a time or heat it on the toaster.
Multiple Options For Baking
You can add an equal amount of white flour from wheat flour, and you can roll the loaves and spread them with wheat bran or rye to get a whole bread rich in fiber.
You can add some types of herbs such as green thyme, anise or fennel, knead the flour with sweetened anise water, cut the dough into small loaves, and paper it to be thick, then bake it and serve it to children with a glass of milk or tea.
If you want soft and light bread, add half a cup of yoghurt during the kneading process.
You can grease the bread before baking with a little liquid milk and decorate the surface of the bread with sesame, nigella (black seeds) or coarse sugar and pieces of dried fruits and serve it for breakfast.
How to make Pita bread at home easily. Watch this video!