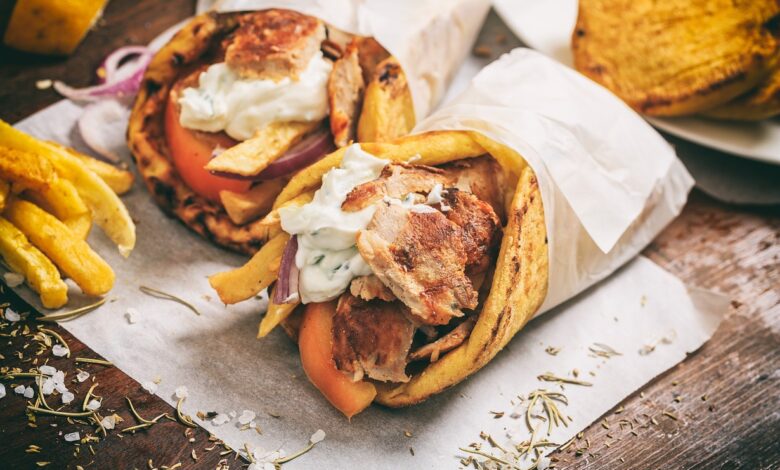 How To Prepare Lamb Shawarma Recipe
It is easy to make chicken shawarma and everyone loves it, but lamb shawarma seems more difficult although it is not. Seasoning is the most important thing in this recipe. Here is the best way to get the most delicious lamb shawarma prepared at home:
How to Season Lamb Shawarma
Ingredients
Four cloves of garlic, finely crushed.
A quarter cup of olive oil.
A third of a cup of vinegar.
A tablespoon of mixed meat spices.
One tablespoon of dry ground coriander.
¼ teaspoon of black pepper.
Half a teaspoon of turmeric.
A teaspoon of cinnamon.
a tablespoon of salt.
One medium size tomato, chopped.
Half green pepper, cut into strips.
This seasoning is enough for a kilo of meat.
A cup of tahini.
Three quarters of a cup of water.
quarter cup of lemon juice.
Two tablespoons of vinegar.
spoon of salt.
½ teaspoon ground cumin.
Shawarma will be very tasty if it is served with :
One large onion, chopped.
Half a cup of apple cider vinegar or any other kind.
Three or five tablespoons of sumac.
A cup of chopped parsley.
Lamb Shawarma Preparation Method
Step 1: Put garlic, oil, vinegar, spices, green pepper, salt, coriander, cinnamon and turmeric in a glass dish (deep), stir the ingredients together and then add the pieces of meat, stir until the seasoning spices cover the pieces of meat well, cover the dish with cling wrap and put it in fridge for several hours. You can leave it in the fridge for a whole night.
Step 2: Take the dish out of the fridge, put the seasoned meat in a medium-sized pan over high heat. Stir meat in the pan until the meat is completely dry, then add a cup of water with the seasoning left in the dish. Wait until the meat is done, then flip it until the water is completely dry.
Step 3: Add the pepper and tomato slices, then stir over a strong heat for several minutes until the tomatoes and peppers wilt, then put the shawarma aside and keep it warm.
Step 4: Tahini sauce: Put the ingredients in a deep dish and stir them together using a fork or hand mixer, whisk until the sauce is formed. If it is heavy, add some water.
Step 5: Peel the onions and cut them into thin slices, put them in a deep dish, add vinegar, soak for about ten minutes, remove from the vinegar and set aside.
Step 6: Open the loaves of bread and spread a little tahini sauce, put some meat, onion slices, parsley, sumac, roll the loaf, and serve it with a selection of pickles.
How to Make Beef Shawarma at Home. Watch this video!