Mediterranean Breakfast Wraps
A typical Middle Eastern or Arabic breakfast consists of many kinds of dishes. They are mostly healthy and nutritious ones. Syrians and Lebanese for example, eat egg, cheese, za'atar, labneh (yoghurt spread), olives, makdous, fruit jams, and fresh bread. Ful-mudammas, a fava bean salad, and fatteh, a dish made with tahini, yoghurt, pita bread, and chickpeas, are two more unique breakfast dishes.
However, during weekdays and busy mornings where everyone is rushing to their school or job, you may not find the time to prepare such a breakfast. That's why some people find preparing wraps for everyone is an easy and convenient breakfast for all. Here is how to prepare four different Mediterranean breakfast wraps.
Recipe 1: Labneh Wrap
Ingredients:
1 piece Lebanese/ Pita bread
2 tablespoons labneh
Mint leaves
Cucumbers sliced thinly
Pitted black or green olives (optional)
1 teaspoon olive oil
Black seeds (optional)
Cherry Tomato (optional)
Preparation Method:
Spread the labneh on bread.
Arrange the sliced cucumbers on top and add mint leaves.
Add the olives.
Sprinkle black seeds and olive oil.
Wrap it up and enjoy .
Recipe 2: Halloumi Wrap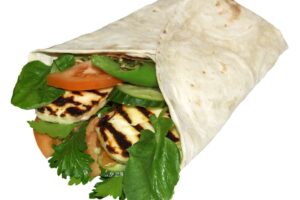 Ingredients:
1 piece Lebanese/ Pita bread
3 slices of halloumi cheese
slices of tomato
Cucumber slices
mint leaves
lettuce
Parsley
Green Capsicum
Black seed (optional)
Preparation Method
Grill halloumi in a hot pan for 1-2 minutes on each side till the surface is golden brown.
Put halloumi slices on bread.
Add the tomatoes, mint, cucumbers, capsicum, olives, parsley leaves and lettuce.
Sprinkle black seed.
Wrap and enjoy.
Another variation of halloumi wrap:
Recipe 3: Zaatar Wrap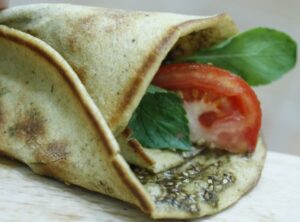 Ingredients:
2 tablespoons zaatar spice mix
2 tablespoons olive oil.
slices of tomato
Cucumber slices
Preparation Method:
Drizzle olive oil on the wrap
Sprinkle zaatar on top and add tomato and cucumber slices.
Recipe 4: Cheese and Jam Wrap
Ingredients:
1 piece Lebanese/ Pita bread
1 tablespoon cream cheese
1 tablespoon strawberry  jam or other jam (raspberry, figs, apricot)
Preparation Method:
Spread cheese on bread and top it up with jam.
wrap and enjoy