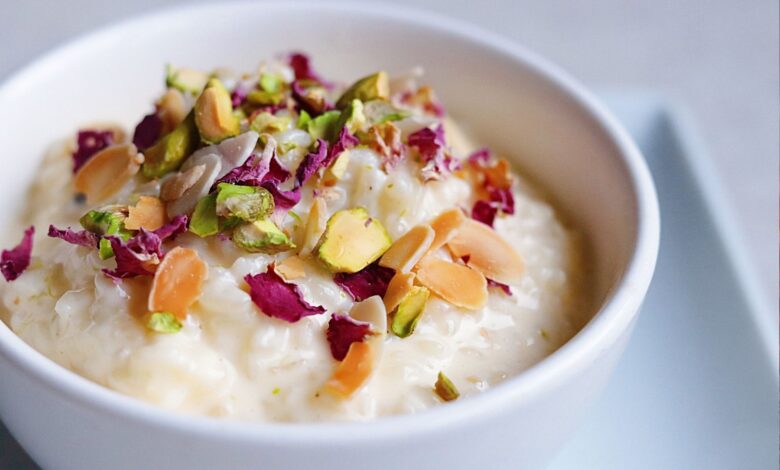 Rice Pudding Recipe
Sweetened Rice pudding is popular in the Middle East and can be scented with a variety of aromatic substances such as rose water, orange blossom water, cinnamon and other aromatics. For a unique and exotic unique flavor, we opted to enhance ours with vanilla, blossom water and Rose water. In this recipe, Egyptian medium rice is used to thicken the pudding. You can also add corn flour if you like the pudding with thicker texture.
How to Prepare Creamy Rice Pudding Recipe?
Ingredients:
½ cup rice
1 liter whole milk
1 cup thickened cream
½ cup sugar
½ teaspoon vanilla
½ teaspoon rose water
½ teaspoon blossom water
⅛ teaspoon salt
½ cup roasted almond flakes.
Preparation Method
Heat milk in a pot over medium heat until simmering. Add rice, stir and turn off heat. Leave rice soaked in milk for about an hour.
After an hour, turn on heat under the pot on low heat and stir occasionally.
Leave it for 10 mins to cook.
Add sugar and stir well until it dissolves
Add cream, rose water, blossom water and vanilla
Add 1 tablespoon of corn flour (Optional)
Turn off heat and put the pudding in serving cups
Put the cups in the fridge for few hours
Garnish with almond flakes or pistachio and serve them cold.
Another variation of Rice Pudding: